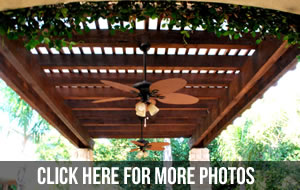 A classic pergola has a decorative latticed roof supported by beams or pillars to provide an airy shade. Also called arbors or open gazebos, pergolas are beautiful architectural statements that complement your home and serve as a cozy and comfortable outdoor living space.
Besides providing a shady nook, a pergola can be used to mark out different sections of your landscape or garden. Think of it also as a portal that leads to other outdoor living spaces like your patio or even an outdoor kitchen. In Katy pergolas are one of the ideal options to extending a home.
A pergola is a welcome home addition because it not only increases floor space; it also raises house value. Whether you own an urban living unit or a quaint country-style home, Patio Creations can assist you in designing and installing a pergola Katy residents will appreciate.
Aside from our Katy pergolas, gazebos, and arbors, Creative Patios also builds screened patios and decks, porches, patio covers, and other outdoor living spaces that you may require. Drop by our Katy office or contact us to schedule a free in-home estimate and no-obligation design consultation.