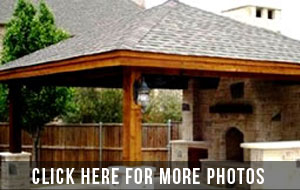 Our patio cover gallery serves as showcase for the styles and materials you can choose from. With the right patio cover, you can convert a simple wood deck into a safe and comfortable outdoor living area suitable for kids to play on or for hanging out with friends and family members. Patio covers are the low-cost way to an instant outdoor living space.
Patio Creations meticulously attaches and weatherproofs its Katy patio covers because these are usually attached to the main house particularly the traditional lattice, solid or combination types. For a more modern design, you can opt for patio covers made from canvas cloth, multi-colored vinyl or wide patio umbrellas.
When deciding on a patio cover design, consider electrical accessories like outlets, fans, and lighting. A patio canopy can also include a fireplace, simple kitchen or even a small fountain.
Patio Creations and its 20 years of expertise have produced custom-designed patio covers Katy residents genuinely appreciate. Call us today for a no-obligation consultation on any of our patio services.