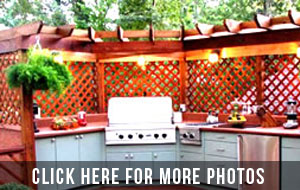 When friends and family want to celebrate a milestone or simply hang out with each other, they usually troop to the outdoor kitchen to whip up something together and enjoy it in a relaxed atmosphere. Outdoor kitchens are one of the outdoor living spaces that blend the natural landscape and your home design into a breathtaking scene.
A Katy outdoor kitchen design may come complete with grill, oven and side burners. You can decide if your grill should be pre-assembled and built in or integrated into your kitchen design. Also available are wood-fired outdoor pizza ovens.
Your customized outdoor kitchen can be a simple countertop with matching sink and oven or a full-service type complete with refrigerator, cupboards, dish drainers and trash bins. The design and feature options for an outdoor kitchen Katy homeowners will appreciate are endless.
Call or visit us today to schedule a no-obligation consultation.