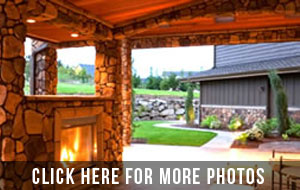 The light and warmth that fireplaces and fire pits offer always draw people around it. There's a closeness and coziness people feel around this man-made source of light and heat.
An outdoor fireplace can take the form of an stone oven or it can be a stunning structure that blends with the outdoor landscape while being the statement piece of an outdoor kitchen or dining area. Fireplaces can be integrated into a porch wall or patio.
Small living spaces have popularized compact outdoor gas or stone firepits that are easy on the budget, easy to install and still draws friends and families around for a good time together. Patio Creations custom-designs and builds fire pits Katy homeowners will definitely enjoy. Another option is to purchase pre-assembled gas or propane fire pit kits. Rotisserie and skewer cooking accessories are also available.